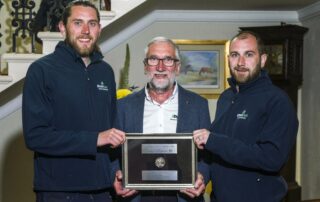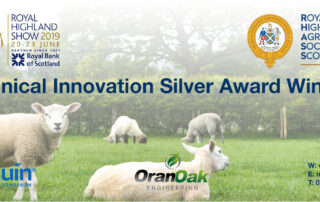 Oran Oak Engineering Picks Up Prestigious Technical Innovation Award At The 2019 Royal Highland Show
Northern Ireland based company, Oran Oak Engineering has received a Silver Technical Innovation Award at this year's Royal Highland Show for its innovative 'DipFast' sheep showering unit.
The DipFast product which is designed by Mark Kelly and his three sons. The system allows for one-person operation, thus reducing labour, and there is minimal contact with the sheep and dip held within. Oran Oak Engineering offer static or mobile versions of the DipFast unit, which both provide low ramp access for the sheep, allowing for easy entrance and exit from the unit. 
Having went through an extensive period of Research & Development before being released on the market, the DipFast product has been well-received by farmers. Oran Oak Engineering Director, Mark Kelly is delighted that the technology has now been recognised in these awards.
Mark said "This is a brilliant achievement to have DipFast recognised as one of the top innovative products at this year's Royal Highland Show. To receive this award alongside some of the top agri machinery manufacturers in the world is wonderful. Our aim was to design and manufacture an effective machine, that was easy to use, safe for the user, animal and environment, while also saving the farmer time. I believe we have achieved that with our DipFast sheep showing unit."
The Royal Highland Show, which is celebrating its 179th year, is one of Scotland's most iconic events. The event which took place between 20th – 23rd June, had over 1000 exhibitors. The RHASS Technical Innovation Awards has a historic reputation for recognising and rewarding excellence.
RHASS Chief Steward of Technical Innovation, Christopher Shepherd said: "As part of our Royal Charter, at RHASS we support and encourage innovation within the agri and rural industry as a key way to ensuring the future of the sector in Scotland."
"Awarding manufacturers, distributors, providers and inventors, the Technical Innovation Awards are a highly influential accolade providing a respected stage to promote new ideas and acknowledge the work and commitment necessary to develop new products. We'd like to extend a huge congratulations to Oran Oak Engineering on their outstanding achievement."